---
Latest News
--------------------------------------------------------------------------------------------------------------------------------
RAVE REVIEWS for the KILLOGY HALLOWEEN SPECIAL Starring DOYLE of the MISFITS!!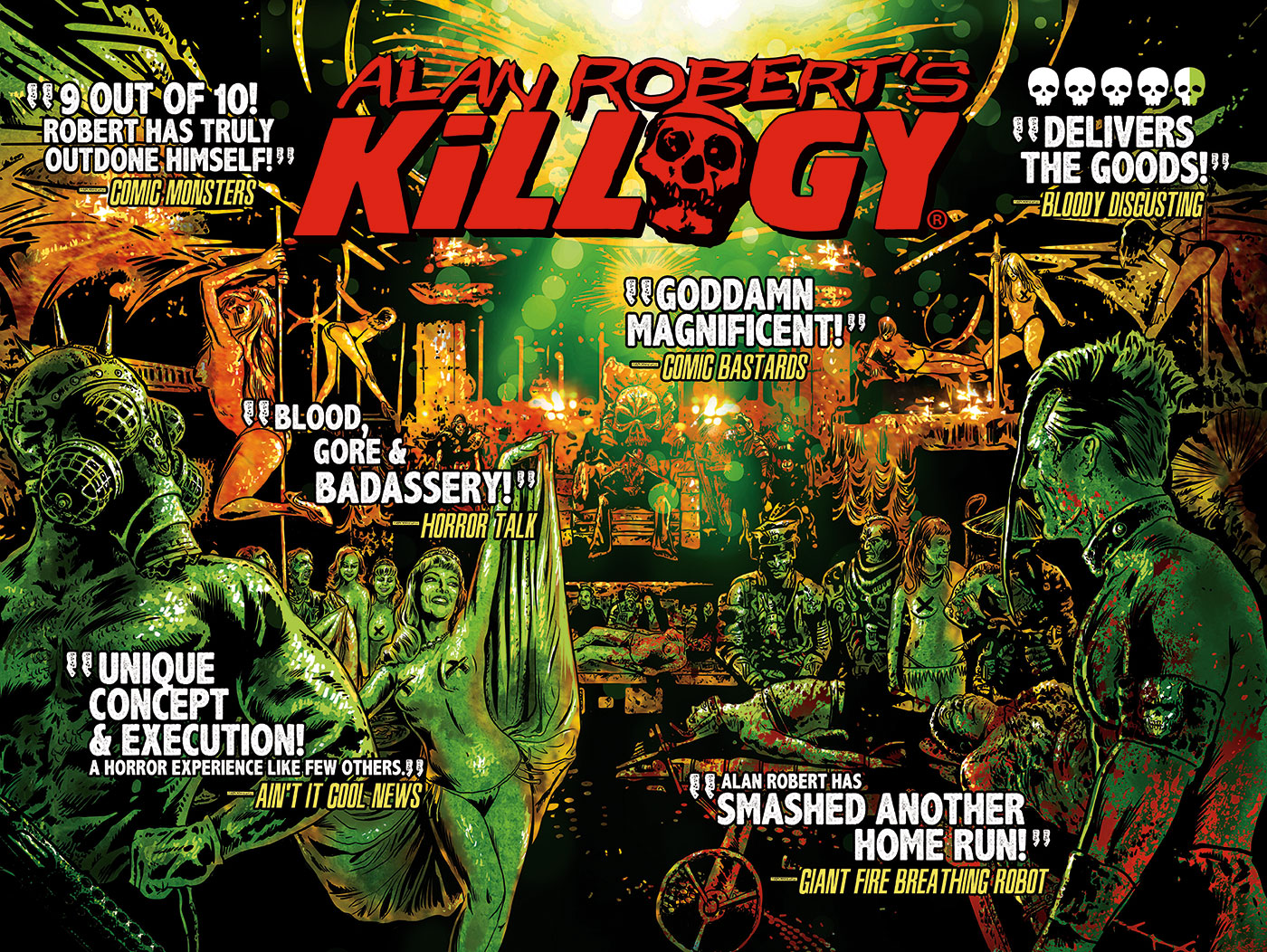 Ex-Misfits horror-punk legend Doyle Wolfgang von Frankenstein stars in a special Halloween edition of Killogy, a comic book created, written and illustrated by Life of Agony's Alan Robert and published by IDW Publishing (Godzilla, Transformers, Teenage Mutant Ninja Turtles).
Killogy Halloween Special REVIEWS:
KILLOGY Halloween Special WINS BEST ONE-SHOT of 2014 on COMICMONSTERS.COM!
SEE ALL THE WINNERS!
Killogy Takes the #2 Spot on Bloody Disgusting's TOP 10 BAD-ASS COMICS LIST!
Click Here >
"KILLOGY is a unique concept and a unique execution; a horror experience like few others out there in comics today. " —Ain't it Cool News
Read Full 'Ain't it Cool News' Killogy Halloween Special Review! >
"Goddamn Magnificent!" —Comic Bastards
Read Full 'Comic Bastards' Killogy Halloween Special Review >
"Alan Robert has smashed another home-run with the Killogy Halloween Special!" —Giant Fire Breathing Robot
Read Full 'Giant Fire Breathing Robot' Killogy Halloween Special Review >
"9 out of 10 Rating! Robert has truly outdone himself!" —ComicMonsters.com
Read Full 'ComicMonsters.com' Killogy Halloween Special Review >
"Blood, gore and badassery! 4.5 out of 5!" -Horror Talk
Read Full 'Horror Talk' Killogy Halloween Special Review >
"4.5 out of 5 Skulls! Killogy Halloween Special delivers the goods... Doyle is a spot-on action star!" —Bloody Disgusting
Read Full 'Bloody Disgusting' Killogy Halloween Special Review >
Revolver Magazine Killogy Halloween Special Coverage:
Click Here >
Horns Up Rocks Coverage:
Click Here >
--------------------------------------------------------------------------------------------------------------------------------
KILLOGY® ANIMATED SERIES IN DEVELOPMENT FROM THE EXECUTIVE PRODUCER OF THE BOONDOCKS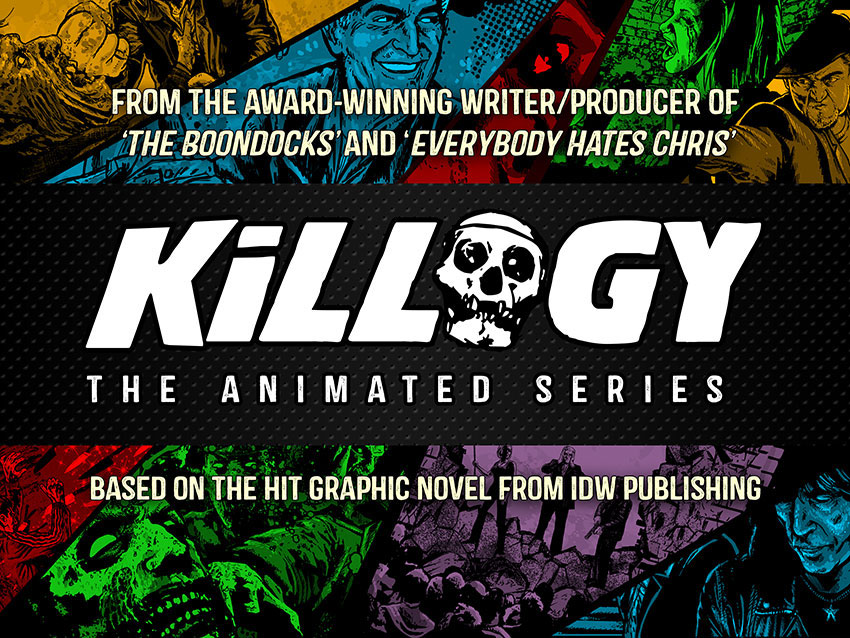 Award-winning executive producer/writer Rodney Barnes (The Boondocks, Everybody Hates Chris) has joined forces with Robert to develop an animated television series based on Killogy. Barnes and Robert will serve as executive producers on the series, with Barnes penning the screenplay for the pilot episode. Celebrities Frank Vincent, Marky Ramone and Brea Grant, who all appeared in the Killogy graphic novel, will now lend their voices to the show. Producers Chris White (My Super Psycho Sweet 16 franchise) and Jeff Mazzola (Descent) are also on board.
CLICK HERE for DEADLINE HOLLYWOOD KILLOGY NEWS >
Killogy leverages a unique mix of humor, horror and pop culture to tell the unique tale of a group of murderers who inadvertently unleash an ancient voodoo curse upon New York. "For me, it's all a bit surreal," says Robert. "I basically get to mash-up some of my favorite childhood heroes, throw them into these outrageous situations, and sit back and imagine what happens next. The series practically writes itself!"
"I'm happy to see the worlds Alan has created extend into new areas beyond comics," said Chris Ryall, IDW's Chief Creative Office/Editor-in-Chief. "His comic books are so visually intriguing and the characters he's created so fully formed that they'll translate really well into animation and other areas. But I'm also glad that he's still doing more comics, and the Killogy one-shot sounds like a perfectly dark treat for Halloween, too."
--------------------------------------------------------------------------------------------------------------------------------
KILLOGY® NOMINATED FOR BEST MINI-SERIES of 2013 BY THE GHASTLY AWARDS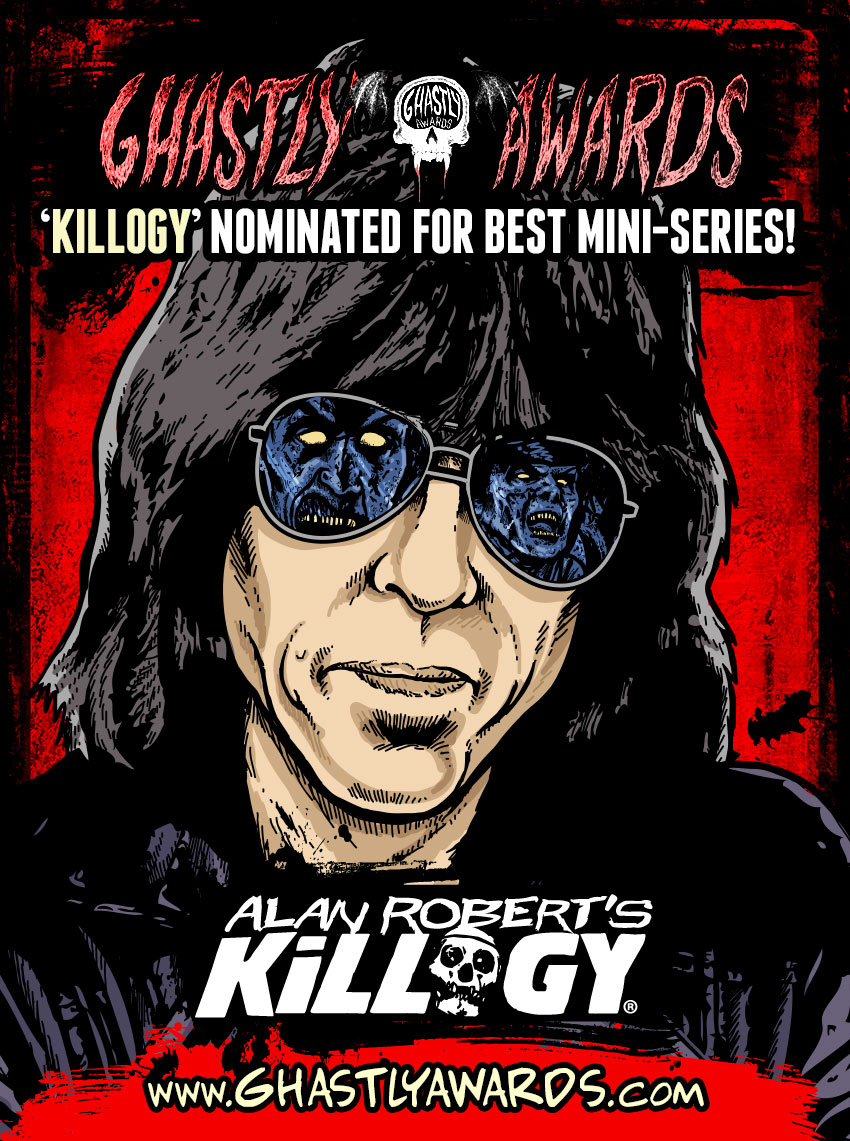 It is a huge honor for Killogy to be Nominated for Best Mini Series of 2013 by The Ghastly Awards. The Ghastly Awards recognize outstanding achievements in Horror Comics over a range of 15 different categories. The nominees are chosen by other horror comic book professionals and winners are chosen by a panel of judges.
KILLOGY® WINS HORROR COMIC AWARD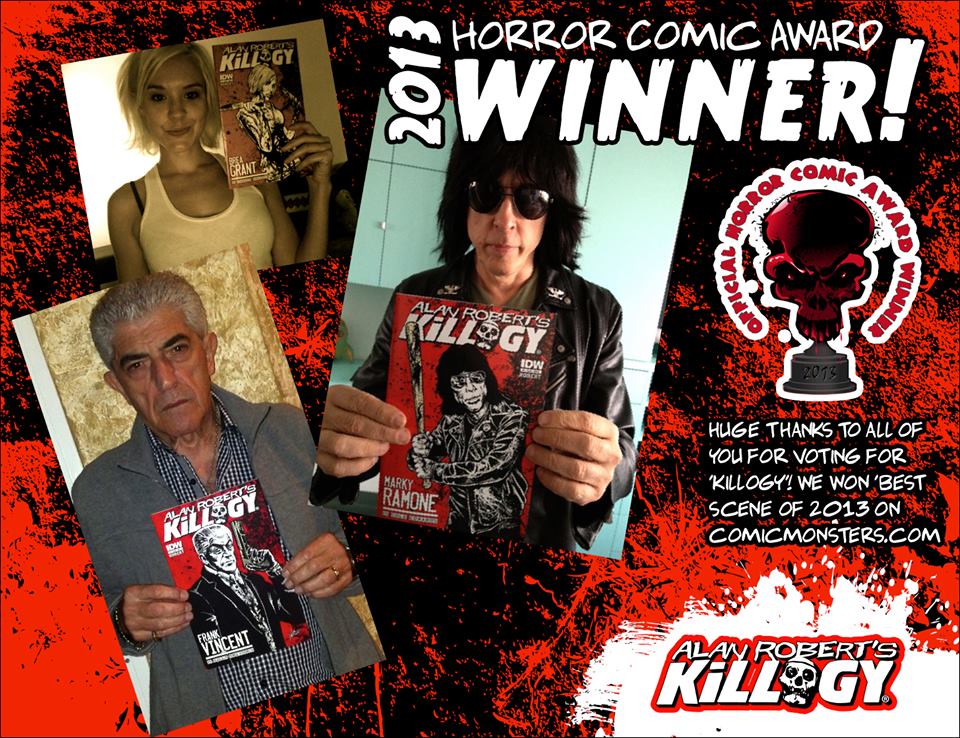 We are proud to announce that Alan Robert's KILLOGY, starring Goodfellas' Frank Vincent, The Ramones' Marky Ramone, and Heroes' Brea Grant won the Horror Comic Award for Best Scene of 2013 at ComicMonsters.com. Killogy was up against some stiff competition, including best-selling series Locke & Key and '68, among many others.
In related news, KILLOGY also came in at #4 on Bloody Disgusting's 2013 BEST COMICS MINI-SERIES LIST!
"Using the likeness of Brea Grant, Frank Vincent, and Marky Ramone, writer/artist Alan Robert lets loose on the tough-guy dialogue with his three hard-broiled anti-heroes. With an art style all his own, Robert is heavy on the shadows and rich with primary colors. With such striking illustrations and pulpy dialogue, there is no way your eyes can look away from this." —Bloody Disgusting
--------------------------------------------------------------------------------------------------------------------------------
GOODFELLAS' FRANK VINCENT, LEGENDARY DRUMMER MARKY RAMONE & HEROES' BREA GRANT TEAM UP IN ALAN ROBERT'S KILLOGY® COMIC SERIES (IDW)
What do you get when you throw three murderers into one prison cell together? Well, when those characters happen to be based on the likenesses of celebrities FRANK VINCENT (Goodfellas, Raging Bull, The Sopranos), MARKY RAMONE (formerly of The Ramones) and BREA GRANT (Heroes, Dexter), you can bet that the outcome will be anything but ordinary. From the creator of IDW Publishing's hit series Crawl to Me, comes Alan Robert's KILLOGY®; an off-the-wall, genre-busting mash-up of crime, dark comedy and horror. Written and illustrated by Robert, this original, four-issue mini-series kicks off this Halloween from the award-winning comics publisher.
Visit the KILLOGY® website, here: http://www.killogycomic.com
Robert said, "When I was growing up, I must've seen Goodfellas and Raging Bull about forty times each, easy. I mean, I can still recite entire scenes by heart. The same goes for my old Ramones records. They are total classics to me. So now, to be working with some of my childhood heroes, along with Brea, on something so cool and different like this, what can I say… it's a great honor and at the same time, it's a bit surreal."
"When I was a boy, one of the first things that inspired me to be an entertainer was comic books," Frank Vincent said, "they were the rage then and now they're the rage all over again... it's a great feeling to be on a cover of a comic book and reach an audience through this great medium." Actress Brea Grant added, "There's nothing more exciting than seeing yourself as a comic book character." The KILLOGY® project was green-lit by IDW back in 2011, but the stars were not quite part of the equation at that time. Shortly after signing the deal, Robert came up with the concept of basing his three main KILLOGY® characters on Vincent, Ramone and Grant. "I had specific ideas on what these characters should look like and I'd constantly find myself comparing them to the stars we ended up approaching. I thought it would be a complete long shot to get them involved, but to my surprise, they were all very receptive to the idea," said Robert. "You rarely see an original, creator-owned comic series that features celebrities depicting its characters. I thought it would be interesting, in the same way The Twilight Zone had guest stars at the center of its stories."
"I'm happy that IDW has become the home for Alan Robert's dark and wayward visions," said Chris Ryall, IDW's Chief Creative Officer. "I feel like we're not only helping society by keeping his horrific proclivities focused on comics but we're also helping bring some truly inventive and captivating comics to the world as well. I'm very happy to continue that trend with KILLOGY®."
The first printing of Alan Robert's critically acclaimed horror graphic novel, Crawl to Me (IDW Publishing), sold out within a week of its release back in January 2012. As a result, the award-winning publisher is pressing an oversized, deluxe hardcover version, titled Crawl to Me: Evil Edgar Edition, this summer. The book, written and illustrated by the Brooklyn-bred Life of Agony bassist, collects the four-issue mini-series and boasts a beautifully painted cover by the talented Monocyte artist, Menton3. An introduction, written by Robert's former cartooning teacher, the legendary Walter Simonson (Thor), starts off the graphic novel.
In related news, director Victor Garcia (Gallows Hill) is attached to direct a live-action adaptation of Crawl to Me for the big screen, with a screenplay penned by David White & T.J. Cimfel (Shut In). Learn more, here.
For more information about Alan Robert, visit: http://www.alanrobert.com
Follow him on Twitter: @arobert
For all press inquiries, please contact: Dirk Wood, VP Marketing, IDW Publishing
---
Cover Gallery
Killogy comic book covers and artwork, plus event appearances photos with creator Alan Robert and the cast: Frank Vincent, Marky Ramone, Brea Grant, and Doyle Wolfgang Von Frankenstein
---
Description
Three strangers, all accused of murder, sit impatiently inside a dingy police holding cell waiting to be arraigned. One by one, the characters recount the events which led to their unforseen arrests and, to their surprise, their stories are mysteriously intertwined. Each of the self-contained issues are told in stand-alone format, easy for new readers to jump in. The ironic twist endings will feel reminiscent of those found in The Twilight Zone. Frank Vincent, famous for his various roles in Goodfellas, Raging Bull and The Sopranos stars as Sally Sno-Cones alongside Rock and Roll Hall of Fame inductee, Marky Ramone, and actress Brea Grant, popular for her roles on NBC's Heroes and Showtime's Dexter.
---
Press
"If you've not yet experienced the work of Alan Robert, Killogy is a perfect opportunity to jump in with both feet. The story is stellar and is elevated to an even greater height by splashed-out artwork that celebrates the plot's pure carnage. Personally, I'd love to see this creator's vision hit the big screen!"
—Geeks of Doom
"One of the most original and unique comics you'll ever lay your eyes on." —Bloody Disgusting
"If you're looking for a horror tale that excels in originality in the story and art department, you should look no further than KILLOGY... Robert is a voice in comic book horror worth paying attention to. Highly recommended." —Ain't It Cool News
"With Killogy, Alan Robert has not only earned his place amongst the big names in comics, but he can stand shoulder to shoulder with some of the best horror creators in any form." —Giant Fire Breathing Robot
"Robert is the epitome of a one-man-band. He's credited as KILLOGY's creator, writer, artist and letterer... It's a remarkable achievement by anyone's standards, made even more impressive by the quality of the storytelling." —Laptop Zombie
"Alan Robert brings his latest zombie adventure to a close, and what a fantastic final issue. Robert manages to blend together elements of grindhouse horror, dark comedy, and gritty crime all while managing an all-star cast of unlikely heroes. For those of you familiar with Robert's previous work, he changes up his art style with Killogy and it works wonders. This is just a damn fun book. I wish there was more." —Lonnie Nadler, Ghastly Awards
"Alan Robert's story blends the noir crime and horror genres in such a unique way that he cements his place as A TRUE MODERN MASTER OF HORROR... In an age of zombies, Killogy is hands down the MOST UNIQUE tale to tackle the subject with characters and dialogue that CANNOT BE BEAT." —Comic Booked
"Killogy is like PULP FICTION meets SIN CITY and hangs out on the street corner with a cast selection by RESIDENT EVIL." —Comic Hype
"Killogy is an INSTANT CLASSIC... it finds its way into your head and stays there!" —Fangoria
"Awesome Story. Awesome Characters and Dialogue. Awesome Artwork. Awesomeness. Pure Awesomeness." —Comic Wow
"Killogy is thrilling, stylized, hilarious and brave." —Chiller TV
"If Martin Scorsese and George Romero had a comic child… it would probably look like Killogy." —ComicMonsters.com
"Alan Robert has UPPED HIS GAME with Killogy. The idea of casting his comic characters is a new one and I don't think that just any artist can pull it off... Robert's characters not only look like the actors portraying them, but they act and feel the way they should as well. It's a movie in a comic and it works very well." —Horror Talk
"His layouts are ingenious, his storytelling completely flawless, as he fully utilizes every iota of space for maximum artistic effect... There are comic book artists who have stayed busy in the business for over two decades who could not come even remotely close to matching this level of skill and/or craftsmanship." —The Lottery Party
"Life of Agony musician Alan Robert's Killogy is coming out from IDW Publishing. I got an early look at it, and it's a pretty clever little story featuring some characters based on real-world actors that you'll recognize." —USA Today
"We've enjoyed his first two comics, Wire Hangers and Crawl to Me, but this latest offering is fan fiction that MURDERIZES Fifty Shades of Grey." —Inked Magazine
"Killogy is a good, long read (clocks in at 24 pages of comic - awesome) with vibrant artwork." —FearNet
"Alan Robert has created another hit horror series. Stunning artwork, both ultra-realistic and outstanding... The story is a flawless mix of dark comedy, drama and horror that incorporates a fun amount of blood to create a thrilling crime story not to miss." —Evigshed Magazine
"8 out of 10 stars! The art, the writing and pretty much everything else from Alan Robert helps this title stand-out from the rest." —Comics Anonymous
"Killogy is well worth a look. It's out-there, it's loud, and it's uber-violent... his illustrations feature just the appropriate level of blood, shadows, and decaying zombie flesh." —Taking Comics
"In Killogy, Robert builds a movie within a comic book and takes the reader beyond the paneled page and into a transmedia experience. I must say his gambit paid off!" —Expert Comics
"Killogy by Alan Robert is creepy, bloody fun... even more blood-splattered, unapologetic and bold than his previous work." —52Tiger
--------------------------------------------------------------------------------------------------------------------------------
Killogy Halloween Special and Animated Series Coverage:
--------------------------------------------------------------------------------------------------------------------------------
More Press & Reviews
---
Creator Bio
Meet KILLOGY® Creator, ALAN ROBERT
In July 2011, IDW Publishing released the first issue of "Crawl To Me," a stunning horror comic series from creator Alan Robert. The story, about a young family forced to cope with a series of disturbing events, was applauded by Ain't It Cool News for being "gorgeous and terrifying." Fangoria promised that "readers will be blown away by the story and artwork of this psychological thriller," and ComicMonsters.com fans voted it "Best Mini-Series of the Year" (beating out top-selling books Hellboy and Locke & Key).
Less than six months later, IDW released "Crawl to Me" as a graphic novel that collected all four issues of the original series. The book sold out within days of its release. Shortly after, it was announced that the acclaimed mini-series was in development to become a live-action feature film with screenwriters attached.
"I remember feeling awestruck the first time I saw the completed version of the graphic novel," says Alan. "I didn't think there could be a greater feeling of accomplishment. But the thought of the book becoming a feature film is pretty mindblowing. I've read the screenwriter's film treatment and it's safe to say that this is going to be one hell of a frightening movie."
A Brooklyn native, Alan's journey as a comic book creator began at the School of Visual Arts in New York City, where he attended on a scholarship and studied cartooning under legendary Thor comic writer/artist Walt Simonson. "I was a pretty shy kid, but I was able to express myself by drawing, which also helped me make friends. I remember kids gathering around me in the school cafeteria, watching me draw some pretty horrific things," he laughs. "I recognized early on that I was able to connect with people on a whole different level through art. And I fell in love with comics after reading my father's silver age collection." He cites Mike Zeck's work on The Punisher: Limited Series as being particularly influential, inspiring him to create lo-fi, Xerox-copied comics which he sold in the neighborhood comic shops. "I wound up tracking him down at a convention," recalls Alan. "I wanted his advice on my portfolio. He was encouraging, very helpful and had some great pointers."
As for being a comic book fan studying with Simonson, Alan says, "imagine being a rookie baseball player and having Babe Ruth as your hitting coach—that's what it was like to have Walt as a cartooning teacher. He's one of the greats and I learned a lot from him."
Years later, Simonson wrote the intro for the "Crawl To Me" graphic novel. In it, he pointed out the inside front cover and splash in issue No. 2, writing, "It's as clever a graphic device for opening a story as I've seen in a long time. I can't take any credit for it," he mused, "but I certainly plan on swiping it at the earliest possible opportunity!"
"Walt always got the best out of me," says Alan. "He helped me to develop the confidence to express myself through storytelling. When I reconnected with him recently at NY Comic Con, he was very excited when I showed him the 'Crawl to Me' books. Having him contribute an introduction to my graphic novel was a real full-circle experience. It's an honor that he did that for me."
Though he graduated from SVA with a Bachelor of Fine Arts, Alan's career in comic books was put on hold when his band Life Of Agony was offered a record deal. Forced to make a choice, he opted for music. "Initially, bass playing and music was more of a hobby than anything else, but the band seemed to have a momentum that couldn't be stopped," he remembers. "At the same time, the mechanics of making comics and cartooning started to seem a bit tedious. I loved drawing, but I was young and playing exciting rock shows on the weekends seemed a lot more fun than slaving over a drawing table trying to get three-point perspective just right," he laughs. "So I jumped in the van and we drove out west to kick off a tour with a band called The Genitorturers, who would bring audience members on stage and do body piercings while they performed. We stayed in fleabag motels and truck stops and there was no road crew to help us. It was just the four guys in the band and a friend of ours who drove the van. It was insane but we loved every minute of it."
"Luckily, I had a lot of support back home," he says. "My mom was a teacher and my dad was an assistant principal at a Brooklyn elementary school. My dad actually bought me my first bass. I think it was exciting for them to see the band get signed and gain popularity. My dad always had one strict rule: he wanted me to graduate college before pursuing music full-time. He wanted me to have a degree to fall back on if the band didn't work out. It was smart and I respected it."
It wasn't exactly a bad career move: though they started out as a hardcore band with a cult following, Life Of Agony went on to sell more than a million albums over the course of a 20-year span. During that time, they played to sold-out audiences around the world, including headlining stints for European festival crowds of more than 500,000 people. They shared stages with some of the biggest names in rock, including the Red Hot Chili Peppers, Ozzy Osbourne and Metallica, and in 2005, the video for their single "Love To Let You Down" received an MTV2 nomination for "Video of the Year."
But Alan never lost his passion for comics and continued to develop an idea called Wire Hangers.
"I remember coming up with the concept when Life of Agony was on the road supporting Ozzy. Whenever we were touring or in the recording studio, I would find myself sketching out characters on the back of lyric sheets and leaving voicemail messages for myself with scene dialogue. One day I decided to finally do something about it and approached IDW with the idea. They had published some of my favorite comics, like 30 Days of Night and Welcome to Hoxford and it seemed like the perfect home for this dark, gritty story with tons of textures and atmosphere. IDW agreed and in 2010 released Wire Hangers to critical acclaim.
"As a new guy on the scene, I was really nervous about the critics' reaction. But it turned out great and I was accepted right off the bat. The books have received tons of positive reviews and some awards and developed a really loyal fan base. I'm super-excited to keep building this momentum going. It's a great tight-knit community."
Alan is currently putting the finishing touches on his highly anticipated new project, Killogy, a Twilight Zone-esque tale of three strangers, all accused of murder, sitting impatiently inside a dingy police holding cell waiting to be arraigned. One by one, the characters recount the events which led to their unforseen arrests and, to their surprise, their stories are mysteriously intertwined. The three characters are based on the likenesses of actor Frank Vincent ("Goodfellas, "The Sopranos"), Ramones drummer Marky Ramone and actress Brea Grant ("Heroes," "Dexter").
"As the story developed, I found myself modeling the characters after these known celebrities because that's how I kept envisioning them in my head. I had no idea if I could even get ahold of these people, let alone get them involved in my crazy idea. But I put some feelers out there to see if they would be interested. It turns out that Brea Grant is a big horror comic fan and had written We Will Bury You for IDW, so she was a good fit right away. Marky Ramone and I have a mutual friend, so I met with him in person and he really loved the idea. He digs comics a lot and he especially liked the idea of his character using a baseball bat as a weapon. Frank Vincent is an old friend of my film production partner, Jeff Mazzola, so he connected us. Frank had never been involved with comics before but he's done voiceovers for animated films and video games recently, so this wasn't too much of a departure for him. He was actually very excited about it, especially the artwork. For me, working with these amazingly talented people on an original concept like this is a dream come true."
Killogy is due for release this October.
"I went into art school determined to become a professional illustrator, came out a rock and roll musician and then found a way to do both," he laughs. "Life is strange that way. You never know where it's gonna take you. But you gotta be able to adapt and just roll with it. It's all about the journey."
---
Links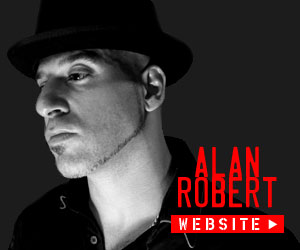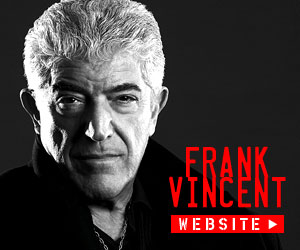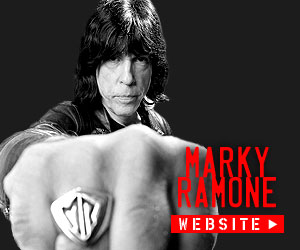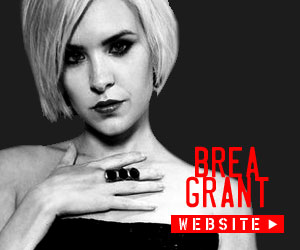 ---
Buy Killogy Comics & Books (Print & Digital)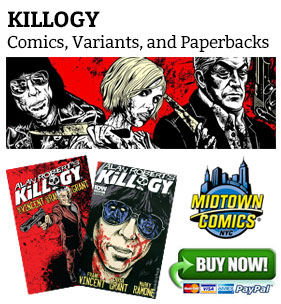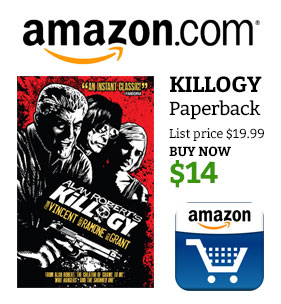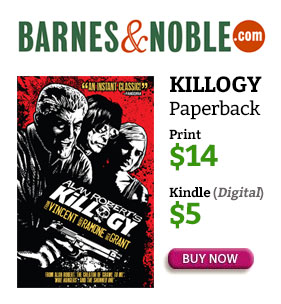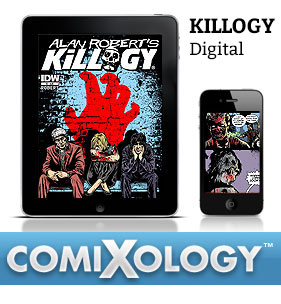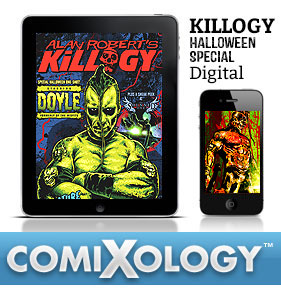 ---
Contact
For all press inquiries, please contact:
Dirk Wood - VP Marketing, IDW Publishing
dirk@idwpublishing.com